Hi,
This is my first post, and although I've searched on this DTC, it never seems to be represented with the "-E1" or "-C" suffixes.
With the MIL(Engine Warning Light) illuminated I used Forscan to read the errors using a switchable ELM327 module and rightly so, it identifies an issue with the DPF. Before investigating further beyond that of visiting forums and Google, I kept resetting the DTC for about 2 months with no noticeable affect on performance of the Car!
Well, it was going to happen where I finally got fed up with the DTC and this weekend I decided to sort it!
The following photos identifies where the DPF Sensor is located. This is under the bonnet attached to the side of the Battery Housing. This connects to metal pipes/hoses that run to the underside.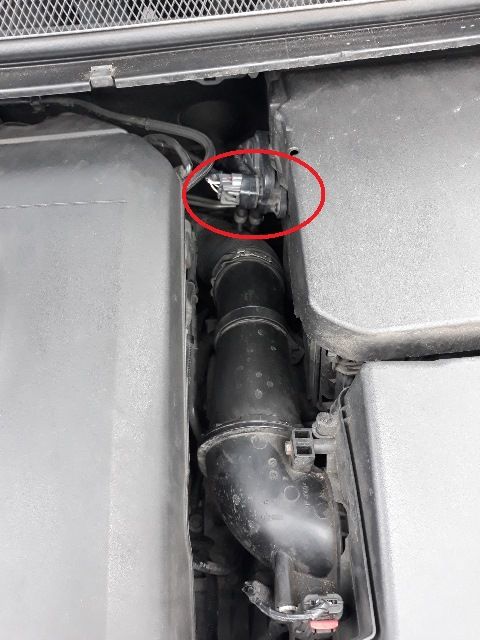 So armed with a pair of Metal Wheel Ramps, torch and small pliers, I inspected under the bonnet. The location I looked was mid section just behind the front wheels and ahead of the DPF as it rises up into the bonnet. One of the Silicone Pipes was completely snapped/broken/serrated. (Sorry, Car lowered before taking photos!)
This was held on by spring band clips at either end. With the pipe off, now known as the Pressure (soot) pipe, it was clear that the cause of this was crystallisation of the silicone, which just makes it snap!
The Silicone Pipe had 7mm Internal Dia with 12mm Outer Dia, with a material sheath.
Short story, was i couldn't find one from anywhere, I did contact Ford Parts in Yeovil, but with a quote of £147, it sounded a bit expensive, Don't think he grasped what i was after, but they came as a pair!
Well, I used a length of braided Fuel Injection Hose/Pipe (From local garage) that had 5.6mm Internal Dia. I drilled about an inch from either end with a 6 and 6.5mm bit to ensure it would go over the metal pipes (A little bit of fairy helped). The pipe cost 50p, so a saving! and secured it with the spring band clips.
The DTC's have been cleared and no re-occurrence has happened since.
Since then, you can get a pipe from here:
https://www.onlineca...st-7896055.html